Winter is here today in Brisvegas! It reached a maximum in my car today of 13deg and now has dropped down to 11deg which is highly unusual! Apparently our coldest day in Brisbane for 11 years.
Beautiful Winter Wonderland in Oakville, U.S. image from
Brampton Remax
Whilst Queensland is not known for being a winter wonderland like the snowy image above; it does snow occasionally in Stanthorpe and the mercury can get down to 4deg on a Winter morning. We usually have beautiful crisp days with clear blue skies and the weather at the moment is more akin to a European Winter's Day!
So how do we make our homes cosy and warm for winter and not always resorting to the heater or reverse cyle air conditioning. (although mine is cranked at the moment!) Get out your favourite blanket or quilt or better still get creative and make one. Knitting or Quilting is a great winter past time and keeps you warm while your making it! If you're not crafty then treat yourself and buy a new throw, blanky or robe I think you'll need it this winter!
So I'll share some cosy and warm spaces to inspire you on a cold winter's night, featuring gorgeous cosy blankets and quilts!
Gorgeous chunky cable knit blanket looks great to snuggle in on a winter's morning! Especially with breakfast in bed! image from syelyfashionshow2011 blog
Heritage cottage bedroom with antique furniture and quilted bedspread for extra warmth on the grand four poster bed! image from whitebedroomphotos blog

A modern stylish bedroom has been given extra warmth with the addition of a shag rug which is a soft contrast to the leather upholstered sleek bed and furnishings (I adore the chandelier too!) image from bedroominteriordesign

If knitting a blanket such as the one pictured here is all dutch to you??? click on the link to
Home Life
for a pattern and instructions!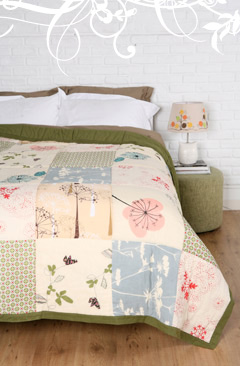 A Simple Quilt which adds such warmth and freshness to this bedroom and would be fairly simple to make for any novice quilter! image from iheartluxe